Diversity:Inspirational:People:City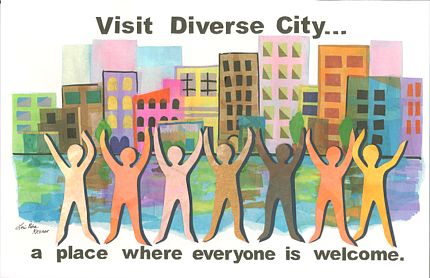 Diverse City
Benefits organization to be named. Created By Lori Peha Kezner, February 2005. 11" x 17" open series color poster print, Greeting Card, Framed Art, Bookmark and Note Pad.

About the Picture

The original is created with tissue paper and then layered over hand-made paper. The prints are high-quality photo laser reproductions that allow the depth of the layered effect to come out of the picture.
Help:
Would you like to know more or need a quantity discount?

- See our Order FAQ page
- Ask a Question
- or Call 425-999-4894
Notes:
100% of the profits from each sale go to the designated organization.


Excellent for corporate, government and education diversity programs.


Quantity discounts available and international orders welcome.